As we usher in the Year of the Rabbit, the Coding Lab team wants to keep our students and children safe on the internet, so we've compiled a list of our top 5 Parental Control Software for you to manage their screen time. We first launched this in 2022's Tiger year for Tiger mums out there. And we've just refreshed this list to include the latest features and enhancements in 2023! 💻🤓 (Also look out for some bonus software below! 😉)
We've seen many children (yes, even our Scratch 1 kids!) with their own smartphones. In fact, two-thirds of Singaporean children aged 7-9 use their smartphones daily and are active on social media. Despite the age restrictions, children have their own Facebook and Instagram accounts.
Do you know what your children are doing and who they are interacting with on social media?
If you don't, you're not alone. Here's how you can get to the bottom of it all: Parental Control Software.
What are Parental Control Software?
Parental Control Software are applications, features or software that allow you to monitor and limit what someone does online. In the past, features were mainly blacklisting websites and checking your children's searches. Today, it has evolved into tools that allow parents to monitor what your children are up to, control or schedule screentime, and even track the locations of their children's smartphones – all simply by logging in to your Parental Control Software account.
That's why we've got a list of our Top 5 Parental Control Software that can be great tools to help you safeguard your kids from the dangers of the web. Read on to find out which one suits your needs best!
1. Net Nanny
Available on Android, iOS, Windows, macOS, Chrome OS and Kindle Fire.
Paid options only.
We kick off the list with one of the Parental Control Software that has been around the longest. With its web-filtering technology (which allows you to control the content that your child accesses online), monitoring features, screentime management, well-designed and easy-to-use apps and web portal, Net Nanny is available on a number of platforms.
Granted, it only has paid options. Furthermore, the geofencing features, which allows you to establish boundaries around 'safe areas', is still rather basic. Net Nanny also lacks some features on its iOS version, but it is still considered almost as good as its Android counterpart.
Pros:
Wide platform support
Web-filtering
Easy to use and well-designed interface
Runs as well on iOS and Android
Cons:
Relatively expensive
Lacks some features on iOS
Basic geofencing features
Price: USD $39.99/year for a single Windows or macOS desktop device, USD $54.99/year for up to 5 devices, USD $89.99/year for up to 20 devices
Find out more about Net Nanny here.
2. Qustodio
Available on Android, iOS, Windows, macOS, Chrome OS and Kindle Fire.
Free with paid options.
Just like Net Nanny, Qustodio is also available on many platforms. But where Qustodio really stands out from the competition are its call and text monitoring features, something that most other Parental Control Software do not offer. You can allow or block calls or specific phone numbers, and view text messages.
It offers a free option that covers one device with basic functionalities such as web-filtering, web and social media monitoring, time limits and an online monitoring dashboard. Keep in mind that features are limited for iOS, which does not include calls and text monitoring, as well as the Panic Button that would enable your child to send an SOS when they need help.
Pros:
Calls and texts monitoring
Easy-to-use User Interface
Broad platform support
Extensive features
Cons:
Relatively expensive
Web-filtering is not consistent
Limited features on iOS
Price: Free for 1 device with basic features, USD $54.95/year for 5 devices, USD $96.95/year for 10 devices, USD $137.95/year for 15 devices.
Find out more about Qustodio here.
Customers of Singtel, you're in luck!
Get deals and discounted prices for Qustodio here.
3. Kaspersky Safe Kids
Available on Android, iOS, Windows, MacOS.
Free with paid options.
Get the best bang for your buck with Kaspersky Safe Kids, which is loaded with many key free features, such as web-filtering, screentime management, and more. Access to full features is affordable for an unlimited number of accounts and devices. As an antivirus company, the paid version also boasts features such as GPS locator, screentime scheduling and real-time alerts for accessing sites or leaving 'safe areas' (geofencing).
That said, its web interface is slow and the app could have been better designed. Features to block or activate web control on iOS devices are also limited. Overall, the free version is definitely worth a try to test it out for yourself before deciding whether you should purchase it.
Pros:
Affordable and great value
Broad platform support
Extensive features
Unlimited devices
Cons:
Limited features on iOS
Sluggish web portal
Unintuitive mobile apps
Price: Free for basic features including web monitoring, time limits and app management for unlimited devices, SGD$15/year for full features on unlimited devices. You can choose to get the bundle with Kaspersky's antivirus software from SGD$35/year.
Find out more about Kaspersky Safe Kids here.
Editor's Note (Jan 2023):
‍‍Several software updates for Kaspersky Safe Kids have since been released in 2022 for both Mac and Windows, improving the application performance and fixing several application issues. Find out more about this here.
4. OurPact
Available on Android and iOS.
Free with paid options.
Looking for the best app control for iOS? Look no further than OurPact. This is the only Parental Control Software that offers this level of iOS functionality, with user interface and app management being its strongest features. Schedule screentime for your child and block all apps with a simple button.
It is important to note that installation requires a computer. Some key Parental Control Software functions of OurPact are lacking, such as limited web-filtering and no monitoring of texts. If your family is iOS-first, there are currently no alternatives that offer anything close to this level of control over iOS devices.
Pros:
Best parental control software for iOS
Great user interface
Excellent app management
Cons:
Limited web-filtering and monitoring
Complicated installation requiring a Windows or MacOS
Price: Free for 1 device with basic features, USD $6.99/month for Premium for 20 devices and all but one premium feature, USD $9.99/month for Premium+ for 20 devices with the full premium feature set
Find out more about OurPact here.
Editor's Note (Jan 2023):
‍‍OurPact has since released new, enhanced family locator features for both iOS and Android devices, enabling parents to get real-time GPS updates on the precise locations of their children. Find out more about this here.
5. Norton Family
Available on Android, Windows, iOS.
Paid options only.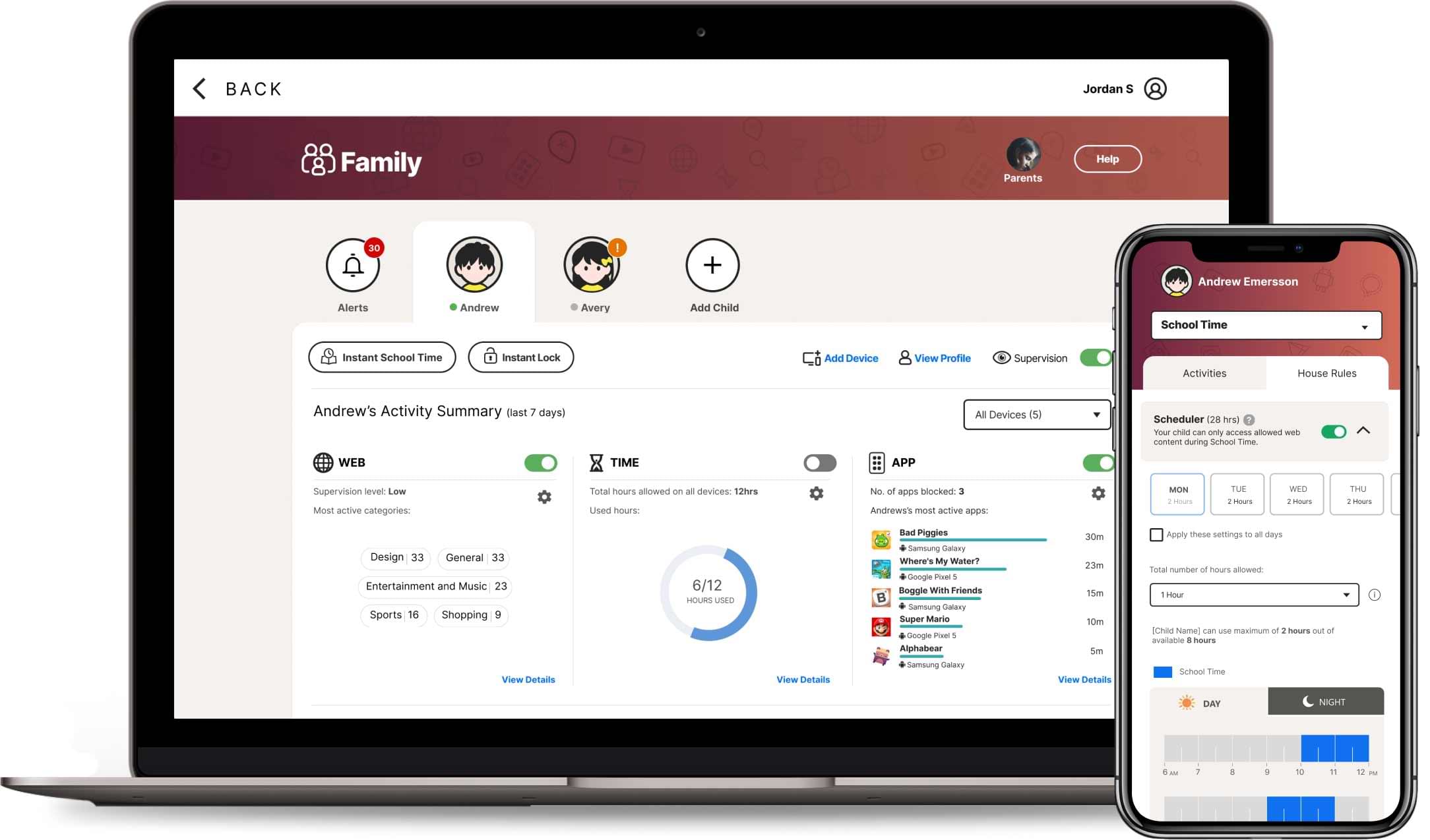 Rounding off our list is a brand known for its antivirus software. Norton Family offers a comprehensive range of features, such as monitoring, scheduling screentime, and geofencing, with the goal of encouraging parents to teach their children healthy online habits. Its web-filtering is one of the widest with 47 content categories to choose from, such as Alcohol, Drugs, and Mature Content.
The app management works well, though only for Android devices. It is also not compatible with macOS. While it is easy to set up, the web portals are not the most well-designed ones, and its mobile apps are not exactly user-friendly. It is relatively affordable if you are considering getting its suite of antivirus programmes bundled together with Norton Family.
Pros:
Excellent web-filtering and monitoring
Unlimited devices
Easy setup and installation process
Cons:
Relatively expensive
Poor mobile apps accessibility and web design
Limited iOS features and does not work on Macs
Price: From SGD$69.99/year, bundled with Norton's antivirus software.
Find out more about Norton Family here.
Editor's Note (Jan 2023):
‍‍Norton Family's price has reduced to S$29.99 per year for the first year. Then, S$44.00/ year bundled with Norton's antivirus software. Find out more about this here.
Generate a Family Agreement on internet and technology use together!
The Smart Talk encourages parents and children to talk about ground rules for internet safety.
Click here to get started!
---
2023 Update!
To herald this new year, we have updated this blog with more alternatives of highly-rated and effective parental control software that may be suitable for your family! We have found that the following parental control softwares have unique features that make them good additional options for parents to consider. 👇
6. Kidgy
Available on Android, Windows, iOS.
Good for parents with younger children below 13. Free and paid options available.
We love how the Kidgy application is both user-friendly, and an effective parental control software which can help to monitor your kids' messages, calls and apps' usage online! It provides comprehensive one-page reports on messaging and app-usage details, and enables you to block dangerous sites through its internet filter.
What's more, the Kidgy app also includes unique and valuable features like a Panic Button for emergencies, GPS Location Tracking for safety and even a Daily Schedule Planner to help educate your child on organising their daily tasks!
Pros:
24/7 Customer Support via phone or email
Daily Schedule Planner
Kidgy Geofencing helps set precise safe areas and alerts you when your child leaves these safe areas
Cons:
No time limits
Relatively more expensive
Price: Free with upgrade option of S$13.98 per month
Find out more about Kidgy here.
7. Google Family Link
Available on Android, Windows.
Excellent free option and possible complement to your primary parental control app
For parents that would prefer a more basic and intuitive option, Google Family Link is a free app that comes with most of the functionalities needed in a parental control software. It is hassle-free and easy to set-up, providing clear instructions and descriptions for both parents and children.
This app is perfect for families that would like another app to support and complement their existing primary parental control software, or for those that would prefer not to spend money on such software.
Pros:
Fast and easy set-up
Excellent and detailed app filtering for Android and Chromebooks
Set daily screen time limits and restrictions for timings like bedtime
Cons:
The kids' app is only available on Android and Chromebook (while the parents' app is also available on iOS and web browsers)
Limited web-filtering and video supervision
Price: Free
Find out more about Google Family here.
---
As a coding school, we know that it's important that we let our little ones continually explore the digital world while also staying safe and vigilant. The use of Parental Control Software allows us to be aware of what our children are up to online, to limit screentime and prevent stranger danger – ultimately, it is up to us, as parents, to educate them on healthy online habits that will stay with them for life!
Coding Lab wishes everyone a blessed Chinese New Year! We wish you success and good health. 🧧
Read Next: Inculcating healthy digital device habits
Written by Oliver Zhang, edited by Thinzar Htet and Gracia Goh
---
Best-in-class Curriculum for Coding
We are honoured to be the winner of multiple awards.
Thank You for your support.
Hop on board the Coding Lab train! Click here to get our monthly newsletters straight to your inbox.
Ages 5-6 | Ages 7-9 | Ages 10-12 | Ages 13-18
Call us at +65 6977 9641
Email us at learntocode@codinglab.com.sg
Chat with us via WhatsApp or Facebook Messenger